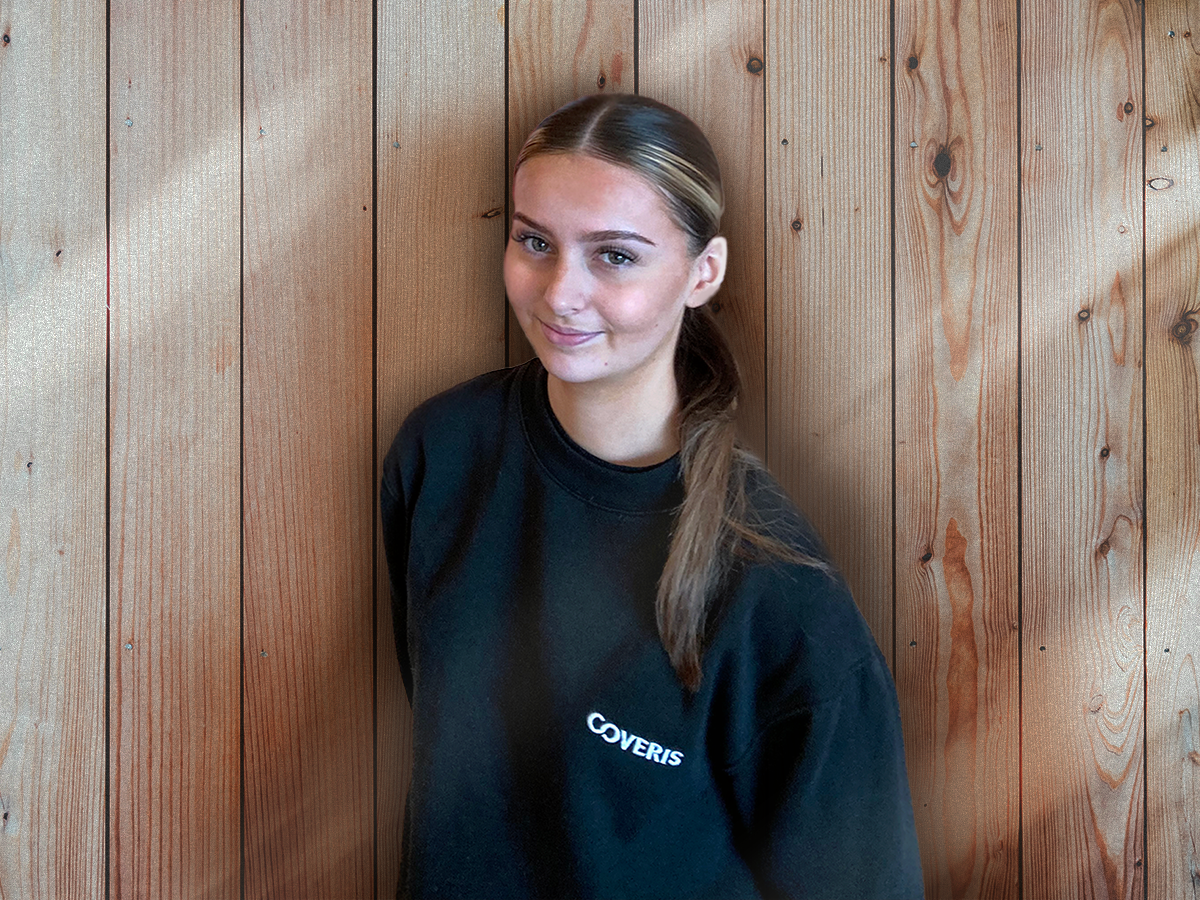 Ruby Rimner
Engineering apprentice
Aged just 17, Ruby Rimner from Tydd St Giles near Wisbech has become BU Paper's first ever female apprentice engineer. Based at our Wisbech (UK) site, Ruby is training to become a maintenance & operations engineering technician. We spoke to Ruby about her apprenticeship and what sparked her interest in engineering at such a young age.

Hi Ruby, can you tell us why you decided to apply to Coveris to do an apprenticeship?
While I was at Spalding High School, someone from Coveris came to talk to us about the apprenticeships available and my teacher suggested I apply as she knew I was interested in engineering. Myself and about five sixth-form boys were interested initially but I think I was the only one who applied from our school. It was the first job that had really appealed to me and it seemed like a good opportunity to get my foot on the career ladder.
Was it easy to apply?
Very easy. April from Coveris' recruitment team got in touch to arrange a trial day and then we had a tour of the site and met the people who we'd be working with.
What were your first impressions of Coveris?
It was different to what I expected as the factory was so clean and tidy. The only engineering I'd been used to previously involved a lot of welding and fabricating with bits of metal everywhere. I was very surprised how modern and high-tech the machinery was.
What does your work at Coveris involve?
I mainly shadow the engineers doing planned maintenance on the machines. We also get set different tasks that the engineers think we could learn from such as finding a fault on a UV lamp or stripping down a gear box which I really enjoy. I attend the College of West Anglia in Kings Lynn one day a week.
What first sparked your interest in engineering?
I enjoy getting stuck into something and doing practical work as it helps me learn more easily. I've been around the industry all my life as my dad is an engineer, so it seemed like the natural career for me to go into. He loves telling people what I do and is super proud! I enjoy being able to go home and talk to my dad about what I've been doing during the day.
Why did you choose an apprenticeship?
We were encouraged to go to sixth form and then to university, but I didn't want to do that. I'm a very determined and hard-working person so I wanted to carve my own path. Most of my friends from school went to sixth form so they don't really have much of an idea about what I do, especially being from an all-girls school!
Are you enjoying working at Coveris so far?
I'm really enjoying working at Coveris as everyone has been so welcoming. It's so refreshing as everyone here seems to really enjoy it. I work alongside another apprentice called Sam – we both started at the same time. We shadow the same engineer, so we help each other out which is nice - it's like two brains trying to figure out the same problem!
What do you most enjoy?
The best thing about working at Coveris is the welcome that I've had. It's also quite laid back and there's no pressure - they just want us to learn to the best of our ability. I always get stuck in and take apart the pumps which is dirty work, but I love it! I enjoy taking things apart, seeing how they work and then putting them back together.
What are you hoping to do at the end of your apprenticeship?
With help of the engineers, at the end of my three-year apprenticeship I hope to get a full-time job at Coveris as it's a good place to work.
Interested in doing an apprenticeship with Coveris? We have apprenticeships in a wide range of roles available including engineering, manufacturing, HR and of course, print. To apply visit: https://www.coveris.com/careers/apprenticeships