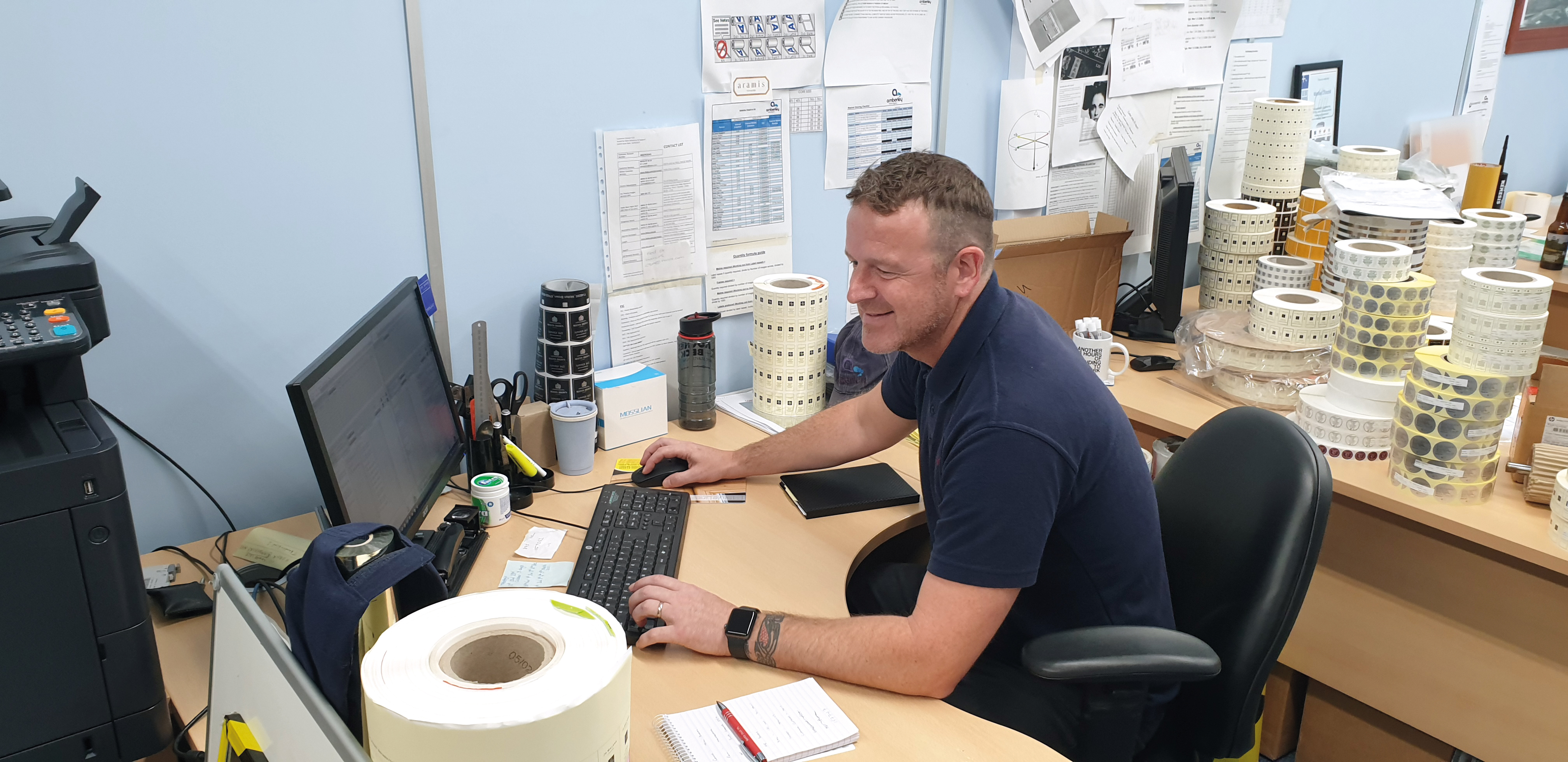 Dave Lovell
Operations Manager
Dave Lovell, Operations Manager at Amberley Labels in Blandford joined the team four years ago. His responsibilities include overall operational management of the production environment and production team scheduling, as well as being a health and safety marshall. Here's an insight into Dave's day at Amberley.
07:50
Arrival at Amberley. I set off for work around 7.15am for my 35 minute commute from Dorchester to Blandford. My trip is mostly on a nice quiet country road, but worst case scenario for me is getting stuck behind a tractor for 10 miles! The journey flies by with a bit of Heart Dance playing on the radio.
08:30
First job for me is to check the schedules from the evening shift the night before. This is my time to deal with any problems that may have occurred, understand if we are ahead of schedule or move work around to meet dispatch dates.
09:00
Time for a walkabout. I take time to walk through each department, say good morning and make sure everything is running as smoothly as possible. It also gives me a chance to discuss schedules with our print operators.
10.00
Temperatures checks for all staff are part of our Covid-19 safety procedures.
11:00
Operations meeting. On a weekly basis we hold an operations meeting to discuss the week ahead and how Amberley has performed in the previous week. This also gives all the managers a chance to discuss their departments. This can be anything from work with urgent timings to ongoing projects. Due to Covid-19 this is now all done via Teams.
12:00
Health and safety (H&S) meeting. Amberley is now in the process of integrating the H&S procedures from Coveris. This meeting, that involves David (MD), Dorota (Operations), Steve Oliver (H&S) and myself is to discuss the changes that will need to take place over the coming months to align Coveris and Amberley.
13:45
Amberley's client base means we operate very strict quality control and I need to check and sign-off decorative embellishment for one of our customers, which was never in doubt of course!
14:30
Amberley's shift change takes place at 2pm. After the team has settled in, it's then my chance to catch up with the late shift. Between us we will discuss the schedule for the evening. Today's schedule has a lot of 'colour critical' tickets. Amberley holds over 5,000 colour standards that we refer back to for colour matching. Our 'Indigo' team pride themselves on their excellent ability to colour match on our HP Indigo presses.
16:15
We have Craig (Flexo Manager), Mike (Digital Manager) and myself looking over plans for our digital department. Amberley is always looking for ways to improve productivity and ways to invest in new technologies. This meeting was to review the department to see if the room works for potential future investment plans.
17:00
Time for home. One last walk round to make sure the late shift are happy and that they have everything needed to make the shift run as smoothly as possible. I have a final check of my emails, shut my computer down in preparation for the next day and leave for home.
"My role as Operations Manager is both challenging and rewarding. Amberley has an excellent reputation for the high quality of both our products and service and my job is to make sure the reputation is carried forward. With Amberley joining the Coveris Group this is exciting times for us. The new structure has brought a new drive to the company and I feel like I am part of a great team. Along with the hard work, there is always time for a laugh, which I think is important in a factory environment. I hope this has been an interesting look into not just my job but a day in the life at Amberley Labels."
Take a look at our jobs board to see the latest opportunities and stay up to date with all the latest news on our social media channels.